Haunted Forest at Panic Point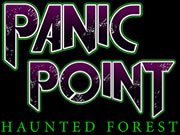 2808 Cedar Creek Road
Youngsville, NC
This is the Haunted Attraction you don't want to miss! Panic Point is 50 acres of pure haunted mayhem with 6 unique attractions. In our scare park, horrified hordes of patrons lock arms and shuffle into the unknown of the Haunted Forest. Survivors brave the Haunted Hayride, Corn Maze, Dark Trail and Carny Crypt. While waiting for your heart rate to normalize between frights, you can hang by the fire, watch your friends on "Scare Cam", eat, drink, or win a t-shirt via Carnival Games or Zombie Shootout.
Attractions:
Haunted Forest - Scare Rating 4 of 5
The Main Attraction at Panic Point is The Haunted Forest: a half mile trail of terror, teeming with a ghastly assortment of Voodoo Queens, Serial Killers, Conjurers, Deranged Clowns and everything in between. In all, you pass through 10 spooky stations with dozens of haunters that will hound your every step.
Once you enter, the only way out is through every creepy building, shack, and graveyard. Every monstrosity on the trail wants something from you; a scream, a loss of bowel control; your heart, your breath, your brain, your blood, your soul.
Whether you run away, cower in horror, or face your fears, you'll come out knowing one thing: Those woods really are haunted.
The Corn Maze - Scare Rating: 1 out of 5
At just over 1 acre, the Menacing Maze is, pound for pound, the funnest corn maze in North Carolina. Fun Fact: Its not actually corn, but a twisted sorghum hybrid meticulously cultivated in graveyard soil and enriched with zombie fodder (who knew, right?).
Unfortunately, the August drought took a huge toll on the stalks. They dried out and have been knocked over, so the maze is waist high instead of over-the-head high. But the path is still difficult, so you may still experience frustration, and throw in the towel by coming out the entrance. Our maze is family friendly, with no haunters inside. Its just you against the maze, "mano a mano". Will you escape to freedom, or spend eternity spinning your wheels?
The Dark Trail - Scare Rating 4 out of 5
Fan Favorite! The Dark Trail has evolved from its primitive beginnings in 2011 to a Can't-Miss-Attraction, joining the Haunted Forest and Howling Hayride as one of the Treacherous Three. Clutch the guide rope (or "death line") and stagger into the unmitigated darkness of the abyss. Years ago, a band of doomsday preppers built a compound deep in the woods to survive the end of the world. But before they could complete preparations, a disgruntled member of their party stole a crop duster & few pounds of mutagen, and dusted the entire area like a renegade Red Baron.
Inhaling the bio weapon caused irreparable neurological damage to the entire pack of preppers. The only thing more gnarled and twisted than their bodies are their minds. Avoid them at all costs. Of course, in pure darkness, you'll never know if you are in the clear, or one step away from your worst nightmare.
Haunted Hayride - Scare Rating 4 of 5
The "Howling" Haunted Hayride is one of the "Treacherous Three" Featured Attractions at Panic Point (along with the Haunted Forest and the Dark Trail). You'll soil your hay bale as your broken-down trailer lurches deep into the obscurity of the woods. But its the fluid of the crimson variety you need to be worried about. Hold on to your loved one, and your extremities, because the creatures that abide within are hellbent on one prize: your blood.
Tell the conductor of this wicked wagon not to stop for anyone or anything, alive or (especially) dead, lest you are overtaken by the aimless, moral-less beings that possess the shadowy locales you will pass through on your journey. The security you feel on the moving vehicle is just an illusion. You can't outrun the danger, and hiding your eyes won't help, when fear is your cloak, and panic is your veil.
Carny Crypt - Scare Rating 3 of 5
This Supernatural Single-Wide has traveled the world, chasing carny infamy. For decades it was a bunk-house for the fringe creatures of mis-creation. Regular ol' oddities wouldn't touch it with a 10 foot fingernail. The two headed boy split himself in two trying to run away from its grotesque inhabitants.
So, of course, we bought it. Now the Crypt sits as a monument to the most hideously malformed offerings of all creation. Its a brief walk/crawl in the dark, but the road to crazy has always been a short trip. You'll never forget your brief hop through this shadowy maze, and you'll come out with some burned-in memories, and a little super-canry DNA somewhere on your person.
Zombie Shootout
Step right up! The Zombie Shootout is one of our t-shirt prize games at Panic Point. We'll equip you with a dead-on, hair trigger laser combat gun, and unleash you on the undead roaming in our Zombie Shooting Gallery.
You have 90 seconds, or 150 rounds, whichever comes first, to take out as many zombies as possible. Be careful! If a zombie gets too close to you before you can take him out, your gun will be disabled for 10 seconds. Top score of all shooters (between 3 & 5 each round) wins a limited edition Zombie Shootout T-shirt.
Email Haunt Owner
All photos and videos within this listing are the property of Haunted Forest at Panic Point
18 Min North Of 540
Recent Reviews
There are no reviews for this listing yet
All information on this page was submitted to Raleigh Haunted Houses and was believed to be accurate at the time it was posted. Please report any inaccuracies
here
.